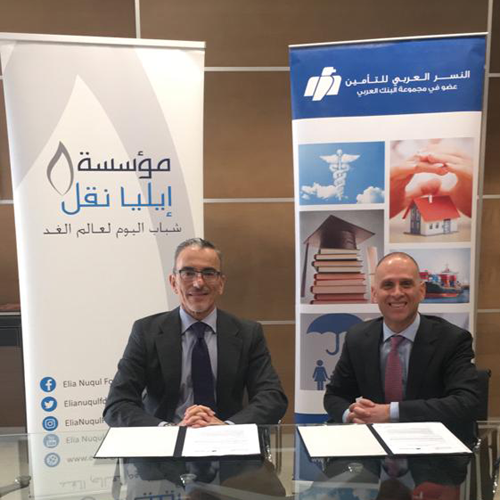 Al Nisr Al Arabi Insurance Company and Elia Nuqul Foundation Sign Education Agreement
Al Nisr Al Arabi Insurance Company signed a partnership agreement with Elia Nuqul Foundation in January 2019. Whereby Al Nisr Al Arabi will grant scholarships for selected ENF students seeking the opportunity to join local universities.

The agreement was signed by Yacoub Sabella, General Manager of Al Nisr Al Arabi and Ghassan Nuqul, Chairman of ENF Board of Trustees. The scholarships will cover the tuition fees and a monthly allowance for students, who should meet certain criteria related to academic achievement and economic status.
Commenting on this occasion, Yacoub Sabella, General Manager of Al Nisr Al Arabi Insurance Company, stressed that the company's participation in this program comes as a confirmation of commitment to its social responsibility in support of the education sector as a main road and path in the construction of a distinct society.

For his part, Ghassan Nuqul, Chairman of the Board of Trustees of Elia Nuqul Institution, stressed that the Institution engages students in all development programs provided by the Institution in addition to the curricular and extracurricular trainings to develop their skills and prepare them to enter the labor market, thus helping to provide the society with scientific and professional competencies capable of giving.
About Elia Nuqul Institution
In 2008, Elia Nuqul Institution was established as an arm of the humanitarian work of Nuqul family that focuses its goals on the development of education, which will be beneficial to individuals and communities in the Hashemite Kingdom of Jordan, through three main axes: scholarships through Elia Nuqul for scholarships fund, programs for community service and social leadership, and development programs. These programs aim to Jordanian youth development by providing opportunities for higher education in universities, community colleges and vocational training centers, as well as providing training programs on life and practical skills in order to create qualified individuals, enhance career opportunities and encourage the youth to social thinking, and to encourage creating a strong social entrepreneurial sector in Jordan.